A Chara
I am writing to you to let you know that Parent Hub Donegal is organising two courses in An Craoibhín, Termon which may be of interest to families in your school.
The Parents Plus Adolescent programme is for parents/guardians of adolescents aged 11—16 years. This programme helps parents consider how they can connect with and build good relationships with their teenagers, while also being firm and influential in their lives. Parents have the opportunity to learn well-researched principles of effective communication and conflict resolution, how to negotiate rules and boundaries and how to teach teenagers responsibility. These skills can be used with teenagers with the aim of helping them grow into responsible young adults. This programme will be facilitated by Pauline Collins Mevagh FRC and Bernie Cunningham Assistant Psychologist HSE. Parents can use this link to book a place on the programme https://forms.gle/RghfGcZ3QmD2R7raA
The Working Things Out programme is an evidence-based CBT programme for adolescents aged 11—16 promoting positive mental health and teaching coping skills to overcome specific problems. WTO aims to help young people build communication and conflict resolution skills in order to help them improve their relationships within their families, in school and in the community. Depending on the needs of the participants the programme addresses issues such as bullying, school pressures, conflict with parents as well as more specific mental health issues such as anxiety, depression. ADHD, OCD and self-harm. This programme can also be useful for students who have a leadership role within the school or who have a particular interest in positive mental health. This programme will be facilitated by Maeve Mangaoang from CAMHS and Úna Collier from Mevagh FRC. Having talked to their teenager about the programme parents can use this link to book a place for their son/daughter https://forms.gle/a4kmZ38kHPBg6YmH8
Both programmes will run in An Craoibhín, Termon on Tuesday evenings 7—9pm beginning 8th October for seven weeks with a break for half term. Booking is essential and places must be booked by 19th September. Anyone interested can contact me on 0871736667 or Bairbre.parenthub@gmail.com I am also sending you posters for the programmes and will email them to you as well. I would appreciate it if you could promote the programmes within your school community. If you have any questions please contact me.
Regards
Bairbre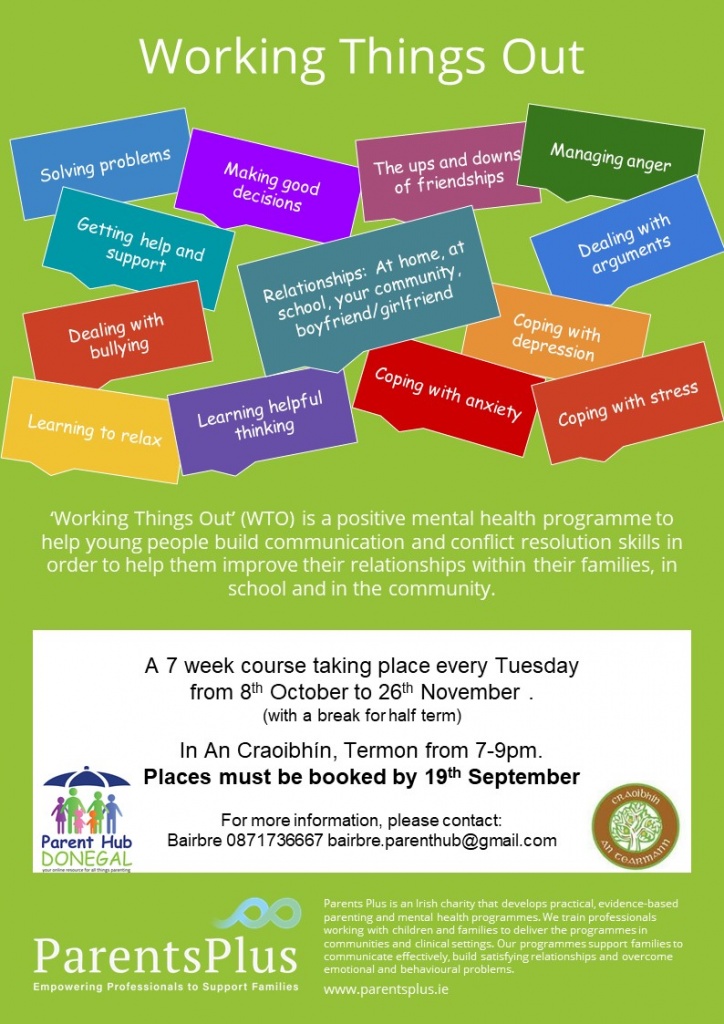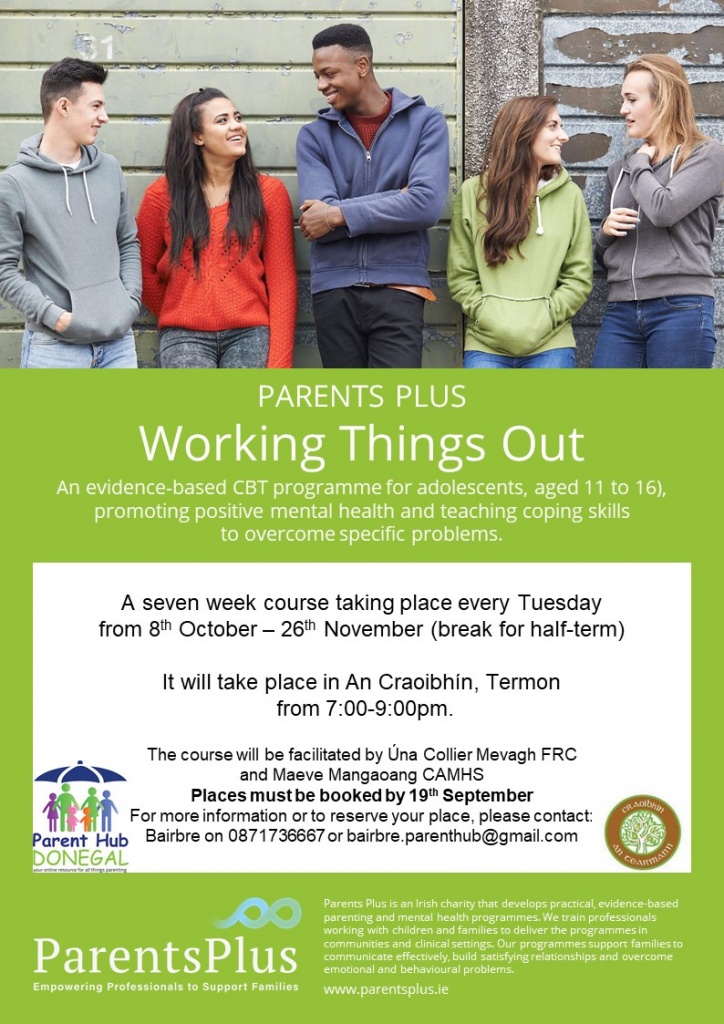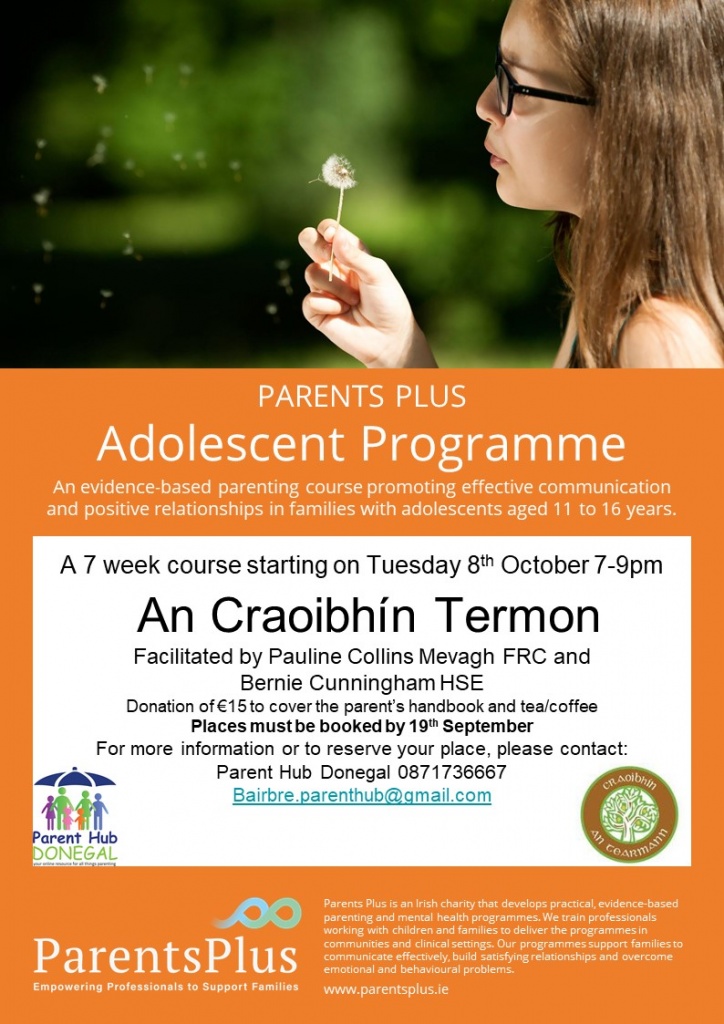 Sábháilteacht ar an idirlíon: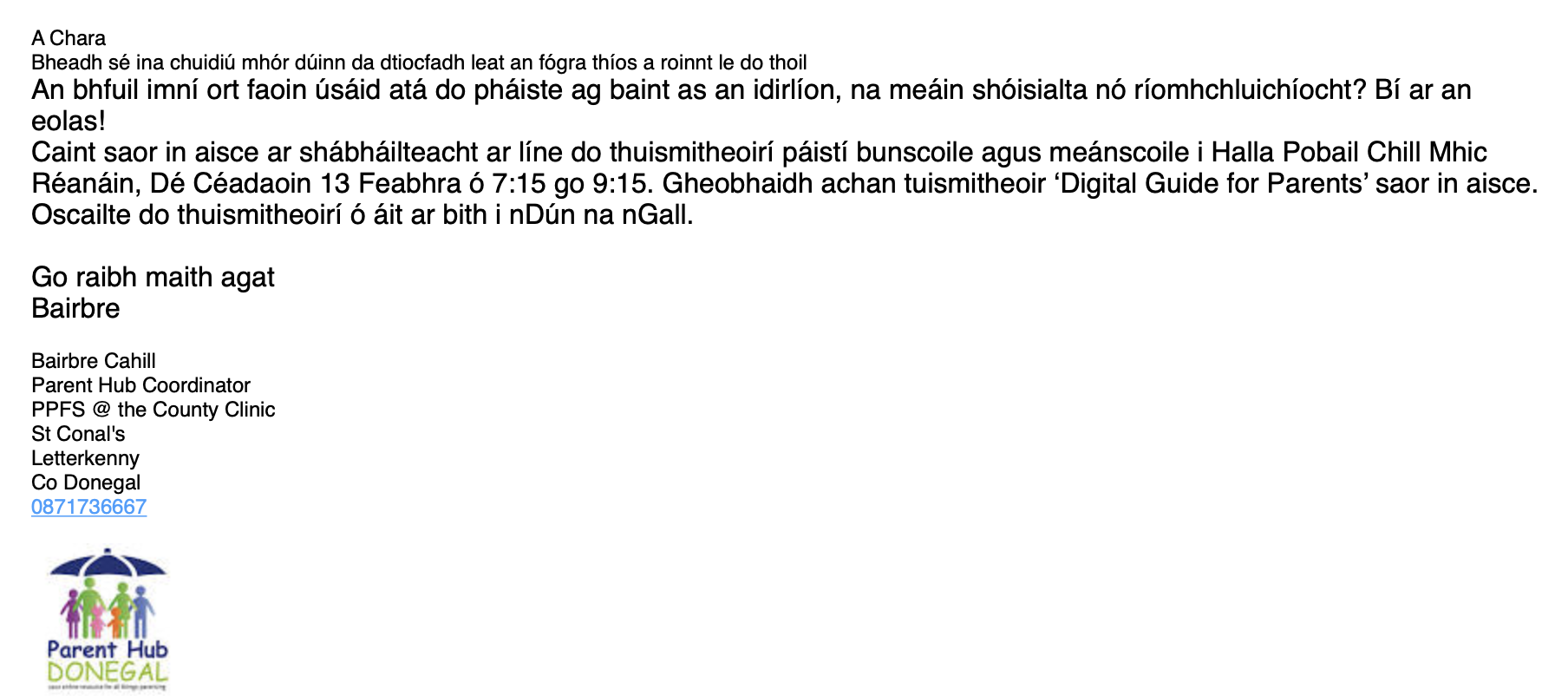 Make One change